Rest of 2020 | June 2020 | May 2020 | April 2020 | March 2020


Coronavirus Diary


Thursday 30th April 2020 Day 38

Today is the 100th Birthday of national hero and NHS fund-raiser, Captain Tom Moore. In her letter to him, The Queen elevated Tom to the rank of Honorary Colonel. I thought I would write a poem wishing Colonel Tom good luck, but I couldn't find many words that rhymed with 'luck' … not that I wanted published on the interweb anyway. So, I decided to pay tribute in a poem about Covid-19:

We shall be ok

Good-bye Covid, you're not welcome here,
Spreading sickness, death and fear.
There's only one victor in this war,
And that's Captain Colonel Thomas Moore.

Good-bye Covid, it's time you surrendered,
And we can get this country mended.
You have yet to meet our secret weapon,
Good Morning Britain presenter, Piers Morgan.

Good-bye Covid, it's time you left us,
We never actually injected Domestos.
We'll meet again, in the words of the song,
Trump proved more bonkers than Kim-Jong.

Goodbye Covid, we've had enough,
Life in lockdown is pretty tough.
Tom captured the mood, when he did say:
'At the end of the day, we shall be ok.'

Happy Birthday Colonel Tom.

'Alexa, play Happy Birthday at volume 10 on Amelia's Echo Dot!' (in Coventry!)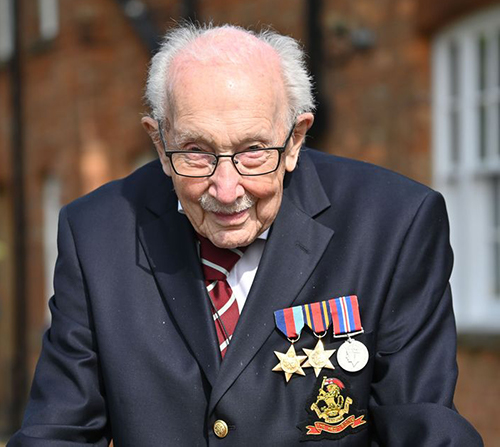 Wednesday 29th April 2020 Day 37

Our lockdown vocabulary continues to develop. As an avid viewer of the government's daily briefing, I have become fluent in the language, Covish-19, and I am happy to discuss: 'the second peak'; 'flattening the curve'; 'test, track and trace'; 'furloughed workers'; 'front-line workers'; 'PPE'; 'capacity to test'; 'the r-value'; 'patient zero', etc.

This is new terminology, probably best explained through a few well-chosen examples. Last night I drank so much wine, I went to bed completely furloughed! I'll need to join Weight-Watchers when this is all over to flatten the curve. If my second peak doesn't kick-in soon, I'll be off to bed by 8 o'clock tonight. In my ongoing research of Single Malts, I have, so far, managed to test, track and trace 12 different drams of the amber nectar. I have yet to find one with the perfect r-value. But, everything comes to he who waits, so be patient, zero to be gained by rushing such important research. Mis-sold PPE? … You could be entitled to thousands of pounds in compensation.

Notice, I've managed almost three days without ridiculing President Trump.

Stop me if you've heard this one …
Say what you like about Donald Trump, but he is doing more than anyone else in the world, to get the US President impeached. What's the difference between President Trump and a worm? One is a slimy, loathsome creature incapable of complex thought, the other lives in a hole in the ground and comes out when it rains.

'Alexa, play the song Be Ok by Ingrid Michaelson.'



Tuesday 28th April 2020 Day 36

Rain?! Lucy Weather didn't warn us of this. Perhaps she did and I was just distracted by the armography, or possibly the tight sweater.

Today, I will be a Legoïste (see yesterday's entry). The Lego Land Rover is in need of some attention.

Stop me if you've heard this one …
What's the difference between a Hippo and a Zippo? One is really heavy and the other is a little lighter.

'Alexa, who is Lucy Verasamy?'


Monday 27th April 2020 Day 35

Today, Prime Minister, Boris Johnson, returned to Downing Street to lead the government in the fight against coronavirus, having rested for two weeks while recovering from the virus. I wonder was he furloughed?


One way to pass the time during lockdown is to learn a new skill, or a new language. Here are some French lockdown words that might prove useful:

Attestation – A certificate needed to justify every trip outdoors. Possibly, the way forward.
Déconfinement - The end of lockdown. The day we are all dreaming of.
Télétravail - Working from home. Perhaps the working world will be forever changed in light of the coronavirus crisis.
Dépistage - Testing or screening for Covid-19.
Egoïste - A selfish person, who is not observing social distancing, eg un connarde egoïste is 'a selfish dickhead'. Like the connardes egoïstes enjoying a picnic in Brueton Park on Sunday.
Les proches – Your loved ones. To quote national hero Captain Thomas Moore, 'At the end of the day, we'll be ok.'
Apéro - Pre-dinner drinks or Prinks. To my daughters isolated in Coventry: I love you girlies, I hope you'll raise a glass tonight to your bonkers father.
PQ – Short for papier cul, or toilet paper.
Ras-le-Bol – Proper fed-up. When you have watched every episode of Modern Family and The Office on Netflix, tidied every drawer in the house and read every book in the house.
Putain – Expletive suitable for many and varied circumstances. 'Oh, Putain! Look at the length of the queue!', 'Oh, Putain, is it still only Tuesday!' . 'Putain! Qu'est-ce que cest un pique-nique dans le parc! Les connardes egoïstes!'.

Cursing in French is so much more fun!

'Alexa, play songs by Plastic Bertrand'.


Sunday 26th April 2020 Day 34

As the official figure passes 20,000, we all know the number of deaths caused by Covid-19 in the UK could be double that by the end of this pandemic. I recall what 15,000 people crammed into Arena Birmingham looked like last May. It is heart-breaking to think of the scale of this tragedy and the number of families impacted. That's why I am staying at home.

My name on Netflix appears as Phil_M. Here's a few other fillums you might care to avoid during the current period of isolation:

• Home Alone
• The Shining
• Misery
• Contagion
• Cast Away
• Single White Female
• Bird Box
• Housebound
• 127 Hours
• 3096 Days
• The Martian
• Cabin Fever

Stop me if you've heard this one …
Breaking news! A US vicar has died after injecting himself with disinfectant. Police are planning to charge Donald Trump with bleach of the priest!

I have heard people comparing Donald Trump to Adolf Hitler. That's just ridiculous. There's no way Trump could write a book.


'The Couch Potato', or more accurately 'The Potato Couch'



Saturday 25th April 2020 Day 33

5:25am Realised Covid-19 is an abbreviation of the term 'Coronavirus disease-2019. As Covid-19 spreads around the world, a number of coronavirus myths have been spread too.

Just to be clear, none of the following are true:

• The general public have been stealing protective equipment from hospitals.*
• Injecting disinfectant into the blood stream will kill the virus.* I suppose it would kill the human carrier, though.
• Using a sun-bed is likely to kill the virus.*
• The anti-malaria drug, hydroxychloroquine is an effective treatment for the virus.*
• The virus was manufactured by a laboratory in China / Russia.
• The strain of coronavirus in India is a far less-harmful mutation.
• The virus is propagated by the 5G mobile network.
• Holding your breath for 10 seconds without coughing means you do not have the infection.
• Drinking cow urine can ward off coronavirus.
• Eating garlic helps to avoid infection.
• Drinking hot water will help to protect you against the virus.
• Drinking lemon juice will help to protect you.
• Don't eat ice-cream!
• Drinking alcohol will kill the virus! Pity!

* according to Dr Trump's Guide to Coronavirus Quackery.
Yesterday, Donald Trump was quoted as saying "I'm not a doctor. But I'm, like, a person that has a good you-know-what."
Sorry, we don't know 'what'.

Stop me if you've heard this one …
What's the difference between Covid-19 and Romeo & Juliet. One is a coronavirus, the other is a Verona crisis.

'Alexa, play Romeo & Juliet by Prokofiev'.


Sunday, Saturday, no Friday 24th April 2020 Day 32

Yesterday, the Scottish First Minister, Nicola Sturgeon, started what she called a 'public conversation' detailing what the route out of lockdown might look like in Scotland. Crucially, no dates were mentioned but she talked about a phased approach, where certain restrictions might be lifted and the impact on the spread of the virus monitored. If the number of new infections were to rise, it might be necessary to return to a previous phase. She made a lot of sense, offering hope without making promises she couldn't possibly fulfil. Impressive.

On a lighter note, here are few phrases specifically invented for the current period of lockdown:

• Sorry, I didn't hear that from three rooms away.
• I'll wash the shopping, you dry.
• What day is it today?
• Ok to FaceTime now?
• Have I frozen? Have I frozen?
• We met up on Zoom last week.
• Is it too early to open the wine?
• Piers Morgan makes a good point.
• No, sorry, I have other digital commitments that evening.
• Is it too early to go to bed?

Stop me if you've heard this one …
Have YOU had to walk 500 miles? Were you advised to walk 500 more? You could be entitled to compensation ... Call the Pro-Claimers now.

'Alexa, shuffle songs by the Proclaimers.'


The Dalai Hamster II



Thursday 23rd April 2020 Day 31

Yesterday, we heard the government's Chief Medical Officer, Professor Chris Whitty suggest that it was 'wholly unrealistic' to expect the UK to return to 'normal' any time soon. I suspect we are in this for the long run. Better pace myself.

The Lego Technics Land Rover is progressing well. Have to say, it doesn't look much like a car at the moment, but there are lots of cogs and gears that seem to whizz round making a most satisfying noise. The box says 11+ years, but I am confident I can build it quicker than that. They say the only difference between men and boys, is the size of their toys.

Reader, if you are squeamish, or in any way sensitive, stop here. 'See' you tomorrow.

Stop me if you've heard this one …
A patient in hospital, recovering from coronavirus, asks his nurse 'Will you have a look, are my testicles black?'. The nurse replies 'I'm sorry, I'm not allowed to check that'. The man is insistent 'Please look, are my testicles black?!'. Again, the nurse protests but concedes 'Ok I'll check' and pops a hand down the front of his pyjamas. Pulling off his face mask the man exclaims: 'What are you doing! I asked if my test results are back!'.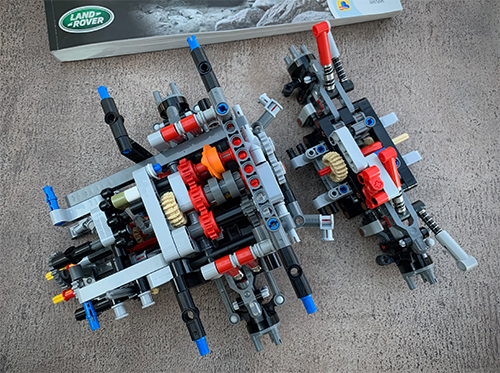 Wednesday 22nd April 2020 Day 30

Another glorious spring day. The weather really is having a laugh.

Dear Diary,
Thank you for helping to maintain my sanity during this strange and testing time. I was only saying to the microwave oven this morning, it has been really cathartic to offload one's innermost thoughts every day, and then publish them on the interweb. Ping recommended having a word with Frosty, who has been struggling during the current crisis. Apparently, Frosty has been panicking that he doesn't seem to have a light, like the one that comes on when you open the door to Brigitte-the-Fridge or Siemens (the oven). Strange that. How does he know her light isn't always on?

I'll ask Alexa why Frosty doesn't have a light.

Redesigned the disabled logo in Photoshop. Something a little more dynamic …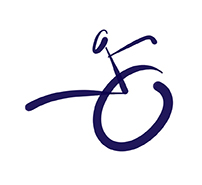 Tuesday 21st April 2020 Day 29

Bruce Springsteen once said: 'He learned more from a 3-minute record (baby) than he ever learned in school'. Have to say, it must have been a good record, or a bad school. However, during the current lockdown period, Amazon Music (other music streaming services are available) and Alexa have taught me many lessons. Here are a few:

• Going nowhere (Neil Sedaka)
• You can't always get what you want to (The Rolling Stones)
• Wherever I lay my hat that's my home (Paul Young)
• God only knows what I'd be without you (The Beach-Boys)
• Yes it's true, I'm happy to be stuck with you (Huey Lewis)
• Rainy days and Mondays always get me down (The Carpenters)
• Don't stand so close to me (The Police)
• It's funny how time slips away (Willie Nelson)
• Don't dream it's over (Crowded House)
• I want to break free (Queen)
• I never though I'd miss you, half as much as I do (Madness)
• Everyday's the same (The Housemartins)
• We have all the time in the world (Louis Armstrong)
• Wake me up when it's all over (Avicii)
• Alone again, naturally (Gilbert O'Sullivan)

'Alexa, play my lockdown playlist.'


Monday 20th April 2020 Day 28

Four weeks since lockdown began. Helen and I have been discussing how we might celebrate when the current restrictions are finally lifted. A takeaway and Netflix? She doesn't seem too keen.

The government, sensibly, seem to be following the guidance of medical and scientific experts who maintain that it is too early to relax any of the lockdown restrictions at the moment. Gavin Williamson, The Secretary of State for Education, a Sixth-Former himself surely, suggested there are no plans for schools and colleges to re-open during the summer.


When the lockdown restrictions are finally lifted, here are six ways the UK will have changed:

Air pollution will be reduced.

We will all have the cleanest, softest hands.

There will be an irresistible urge to go to the front door and disturb the neighbours at 8.0pm.

The parks will be packed with people who have discovered exercise.

We will be afraid to shake hands with, or hug, anyone.

There will be a national shortage of Slim-FastTM (other meal-replacement drinks are available).
Stop me if you've heard this one …

Police were called to a supermarket today after a fight broke out over loo roll. They managed to calm things down, but one person was arrested and one person was left with soft tissue damage.



Sunday 19th April 2020 Day 27

January 2020 brought us the wildfires in Australia.
February, storms and floods in various parts of the UK.
March, a pandemic.
Wonder what's next? A plague of locusts?

On a brighter note ….
President Trump was leaving a press briefing when a would-be assassin, brandishing a gun, jumped out of a passing car. An aide bravely tackled the assailant, and saved the President, shouting 'Mickey Mouse'. Later, thanking him for his heroism, Trump asked 'But why did you shout Mickey Mouse?'. The agent replies, 'I'm sorry, I panicked, I meant to say Donald! Duck!'.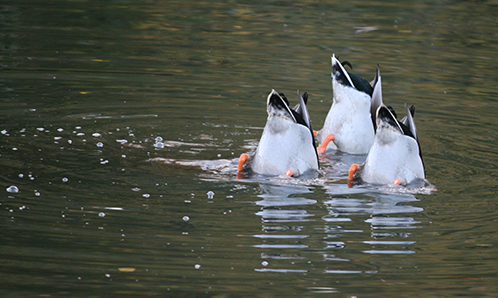 Bottoms Up!



Saturday 18th April 2020 Day 26

6:24am A lie-in!

With lockdown extended for at least a further three weeks, the days of the week have been officially renamed as: Sunday, Sunday, Sunday, Sunday, Sunday, Today and Tomorrow (the day each week, when I go outside to tidy the garage).

Rain! Brilliant! An opportunity to make a start on the Lego Land Rover, having carefully checked out the underside first, of course. Apologies, in-joke … see March 23rd.

Who could have guessed what the year 2020 had in store for us? Covid-19 continues to claim thousands of lives worldwide every day. It is like 9/11 every day, day-in-day-out. We all remember where we were when we found out about the terrorist attacks on New York and The Pentagon in 2001. This time, it will be easy to remember; we were at home.

The USA leads the league table of deaths attributable to the virus, with numbers continuing to rise. Yet, President Trump is still talking about opening up some states for business again. Particularly the ones where he needs to campaign for votes, I suspect. At least the UK politicians seem to be playing safe and listening to the advice of the scientists. That is one league table you don't want to see your team at the top of.

Rest-assured we will come through this. The world might be forever changed by the coronavirus crisis, but some of the changes might just be for the better. See you on the other side.

Stop me if you've heard this one …

I bought my wife a fridge for her birthday. You should have seen her face light up when she opened it.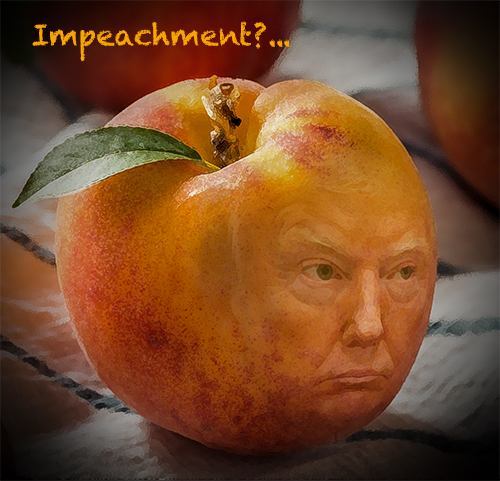 Friday 17th April 2020 Day 25

Well, I woke up this morning,
I got me a case of the Lock-down blues.
I woke up this morning,
With all this time on my hands to lose.
It's been three long weeks now
Since I pulled on my trousers, or my shoes.

Well, I woke up this morning,
To find the Lock-down stretched 'til May.
I woke up this morning,
Dear diary, I had nothing to say.
So, I set about writing a song,
And came up with the Lock-down Blues.

Well, I woke up this morning,
And checked, it was 5:24.
I woke up this morning,
Lucky I don't make a living from songs
'Cause I can't find the rhyme no more.
Got me a case of the Lock-down Blues …


'Alexa, play songs by Blind 'Lemon' Jefferson'.


Let's Join a Band



Thursday 16th April 2020 Day 24

4:34 am: Guest-Diarist, Professor Unwin's Guide to Covid-19 …
Now, once upon a polly tito, in a land far, far awale, an evil buglet travellit from an under-done fledermaus to a humane carrierloder. Oh folly! A worm of warny, always cookit de fledermaus until wellit-most done.

The evil buglet, all trickly-how and huffalo-dowder, roamit across the European contilode, leavy casualties and poorly-most health in every provincit, Easterly-to-Westermost. Covoniaviolet was its namelode.

By the monthly-tito of Marchit, covoniaviolet fallolopped across the channelode to Britters. Oh Folly! Folly! With mounty casualties and poorly-most health, the Britters Premierloder, Boris Johnstole, announcit that the Britters should 'Stayit Home, Protectit the NHS and Savit the Lives'. Lockit-down!

With casualties escalit into many-most thousands, Britters found thyself in a nation-wode emergence. Oh fundamole! Soon, even the Britters Premierloder, Johnstole, took proper poorly-most with the covoniaviolet. Boris recoverit, but many-most Britters and peeploders around the worle did not. A testy-most and scarymost tito. Always remembrole the yearly-tito of 2020. Let's facit, our eyebolds, and the eyebolds of the governerloders, beit 'orf-the-ball' with all thine Brexit nonsense. Pahr! Oh folly! Now, Britters needs unitie more than ether.

'Stayit Home, Protectit the NHS and Savit the Lives'. With much hither-and-hoff and more huffalo-dowder to come, rest-assurit, we'll get thoughit-most together. Stayit safe, peeploders.

'Alexa, play songs by Stanley Unwin'.



Wednesday 15th April 2020 Day 23

2:35 am. The 10 Coronavirus Commandments:

• Thou shalt stay at home.
• Thou shalt not stand too close to anyone you don't live with.
• Thou shalt wash your hands 7000 times a day.
• Thou shalt not be able to resist touching thy face.
• Thou shalt not sleep.
• Thou shalt look forward to the daily briefing at 5.0 pm.
• Thou shalt not drink before 6.0 pm.
• Thou shalt never get round to tidying the garage.
• Thou shalt not know what day of the week it is.
• Thou shalt gain weight.

Speaking as the USA suffers record numbers of deaths caused by coronavirus, President Trump withdraws the administration's funding of the WHO, blaming them for mismanaging the current crisis. Pots and kettles spring to mind! Roger Daltrey, of The Who, was unavailable to comment. Probably, planning his next farewell tour.

I suspect the current lockdown restrictions are likely to stay in place for at least another three weeks. Just six months ago, the nation was looking forward to leaving the EU, now, we are just looking forward to leaving the house.

I had a lovely reply yesterday from Professor Steven Pinker, eminent Professor of Psychology at Harvard University, after I had emailed him. He even complimented my photography. Proper made my day!

'Alexa, who is Professor Steven Pinker?'



Time on my Hands



Tuesday 14th April 2020 Day 22

Rather confusing news this morning. Spain and Italy have decided to relax their lockdown restrictions a little, despite continued reports of new infections each day, yet, France extend their lockdown for another four weeks, based on similar numbers. Let's hope we learn from our European neighbours. Tasked with that decision, I think I would err on the side of caution.

Another beautiful spring day. The weather seems to be the only thing thriving on the coronavirus. And, the sales of alcohol.

Last night, I read that ex-Chelsea and England goalkeeper, Peter Bonetti had sadly died. I met Peter 'The Cat' Bonetti on a cruise ship back in 2012. Funnily enough, I was paying table tennis with ex-Everton, ex-Chelsea, ex-Leeds footballer Duncan McKenzie when the ping-pong ball went over the balcony. Peter was on the deck below and was kind enough to throw it back to us. Bonetti passed the ball to McKenzie, McKenzie to Moorhouse. I remarked to Duncan 'I've had this dream many times before'. I've dined out on that tale many times since.

Alexa, play the album 'Since I saw you last', by Gary Barlow. Whole world inside these four walls …

Stop me if you've heard this one …

I used to be a big Robbie Williams fan but that all changed when I started to study geometry and found that more interesting ... now I'm loving angles instead.


Monday 13th April 2020 Day 21

Three weeks since lockdown began. My fourth week in isolation. Astonishing really, that the human condition is so adaptable that this has become our new 'normal'. So, a few lessons learnt during the current period of lockdown:


Home is, indeed, where the heart is.

The Third World War was started without a single shot being fired.

FaceTime was a good idea after all.

My hands are able to consume more alcohol than me.

Going to bed early does not make the time pass more quickly, or mean you will consume less alcohol, or eat less, or sleep.

The planet would heal itself if we all stopped travelling.

Boris Johnson was the right choice for the job.

Make sure your bat is cooked thoroughly before serving it.

Never again grumble about going out to work.

Enjoy the time you spend with your family.

The Netflix subscription was, in fact, good value for money.

Many home-schooling parents are discovering the problem might not have been the teacher.
Stop me if you've heard this one …
A man went into a library and asked, "Do you have any books on shelving?" The librarian said, "Yes, all of them."



Sunday 12th April 2020 Day 20

Easter Sunday. Called the girls on FaceTime and filled our next virtual shopping trolley. For all its faults, the World-wide Web has proved to be an invaluable instrument during lockdown, connecting us, entertaining us, informing us, feeding us.

Dear Sir Tim Berners-Lee, who could have predicted, in 2020 you would save the sanity of the entire world. We cannot thank you enough. 'Alexa, who is Tim Berners-Lee?'.

Happily, the Prime Minister left hospital today, allowing him to recuperate at home. Perhaps surprisingly, he made a broadcast from Chequers, praising the NHS and particularly the staff responsible for his recovery, and thanking the British public for their continued efforts and sacrifice at this difficult time. Very impressive. Boris Johnson has exceeded expectations.

Stop me if you've heard this one …

Thirty days hath September, April, June, and November, all the rest have thirty-one except March 2020 which had 8052

Apple's iCloud spotted over Torquay



Saturday 11th April 2020 Day 19

The third Saturday of self-isolation. A beautifully sunny, Spring day. The parks will be full …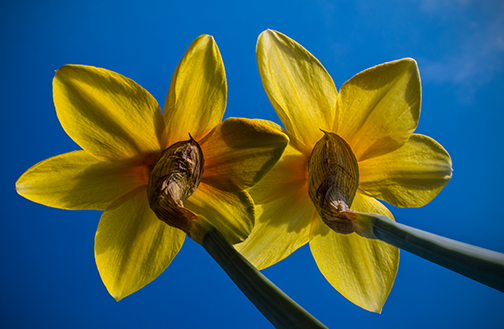 Worm's Eye View


Friday 10th April 2020 Day 18

Good Friday … hmmm! Have to say, an online quiz with friends managed to make it a good Friday. The technology continues to be a bit of a life-saver during these testing times.

Now, out of intensive care, the Prime Minister has spent five days in hospital. I suspect he has been more poorly than we will ever know. At a time of national emergency, Boris Johnson was prepared to step-up and, indeed, risked everything. Some commentators have suggested that Boris's illness was just a publicity stunt. Probably the same ones who believe the Earth is flat or the Holocaust didn't happen. Have to say, the Prime Minister has earned my respect, unlike the people burning down 5G mobile phone masts in Chelmsley Wood last night. Stupid is, as stupid does.

I had decided not to dwell on the daily report about the number of deaths caused by coronavirus, but today's briefing revealed there had been almost 1000 deaths for the fourth day running. This suggests we are far from seeing an end to this crisis. I suspect there is a wider population out there who are not as frightened as they should be.

I spent the morning compiling another competition for the photo club, a collection of creative images. Here's a link to it:

https://youtu.be/dphFkgdbO08



Thursday 9th April 2020 Day 17

Awake at 4.41am. Amazing how little sleep you can survive on during lockdown. We go to bed early thinking it will make the day shorter!

The number of deaths caused by coronavirus continues to rise, yet, many people are still under the impression that the restrictions might be relaxed on Monday. I suspect they are sadly deluded, and the current lockdown restrictions will be extended or even tightened further. This would seem sensible when you hear of people pondering how they can bend the rules rather than follow them. I wonder which part of the phrase 'Stay at Home' is confusing them?

My new 'isolation' project arrived today. A Lego Technics Land Rover Defender Mk2. There may be photographs! Have to say, I was never a fan of the Defender Mk1, particularly the one that ran-over me 37 years ago! However, the Mk2 was an altogether different beast.


How Time Flies …



Wednesday 8th April 2020 Day 16

The Prime Minister spent another night in the intensive care unit. His condition is described as 'stable'.

The number of deaths from coronavirus continues to increase rather alarmingly, although the number of new cases does not seem to be accelerating as feared. It is too early to tell when we might expect to reach a 'peak' in the number of infections. Let's hope for bad weather this Easter weekend.

Into our third week of isolation, fourth for me. Funny, how time slips away, in the words of Willie Nelson. 'Alexa, shuffle songs by Willie Nelson'.


Funny, How Time Slips Away



Tuesday 7th April 2020 Day 15

Last night we learned that Boris Johnson's condition has worsened and he has been admitted to the intensive care unit at St Thomas' Hospital. This disease is unpredictable and indiscriminate. Hope the folks who were pictured sunbathing in the park at the weekend are now starting to take the coronavirus crisis a little more seriously. Morons, as Piers Morgan would say. I wouldn't disagree.

Officially there is no Deputy Prime Minister, but in his absence, the Prime Minister has asked Dominic Raab to deputise. No-one would want this job under these circumstances. The Country wishes Boris a speedy recovery.

I asked Helen what time should I set the alarm for in the morning? 'October?!' she replied.


Monday 6th April 2020 Day 14

Two weeks into lockdown, we wake to the news that the Prime Minister, Boris Johnson has been admitted to hospital because his symptoms of coronavirus persist, 10 days after being diagnosed. Let's hope Boris returns to good health soon to continue his mission to defeat coronavirus. He will certainly return 'armed for battle', with everyone's good wishes. Hope is the most powerful of emotions. Without hope we have nothing.


At home we continue to self-isolate, Helen walking to the park most days to get some exercise. I must ask her to walk my Apple Watch down to the park today, as it keeps tapping me on the wrist to check I am still breathing! The girls are still marooned in Coventry, but at least they have each other. Together, alone.

Stop me if you've heard this one …
'I haven't seen your husband since we came out of lockdown?'. 'Oh, he's in the garden'. 'But I've just been in the garden and I didn't see him?' …… 'Oh, you didn't dig deep enough!'.


Sunday 5th April 2020 Day 13

HM The Queen made a broadcast to the nation at 8.0pm. She paid tribute to the staff of the NHS and other carers. We are reminded of the importance of friends and family during these troubled times. She concluded with the poignant words "We'll meet again". The Queen has made just three or four of these extraordinary broadcasts during the last 68 years. Unprecedented times we find ourselves living through. It is like living through a waking nightmare.

The coronavirus crisis has given us a new vocabulary of words we have never used before: unprecedented use of the word 'unprecedented', lockdown, epidemiology, herd immunity, pandemic, immunocompromised, furloughed, social-distancing, self-isolation, essential-worker, 'Zooming'. Who knew these would be terms we would ever need?


Saturday 4th April 2020 Day 12

So, what happened on our second Saturday in isolation? Another Tesco shop delivered and Helen managed to drop-off some supplies to our respective parents' flats.

The death toll has risen to above 4,300. Once again, the biggest increase in a 24-hour period. I have decided not to continue to report this statistic each day. The number is just too depressing.

Beautiful weather is forecast for the weekend again. The government warn against going out to local beauty spots to enjoy the fine weather. I suspect the Police will have their work cut-out this weekend, sadly.

We learned that some people have been spreading 'fake news' that 5G mobile-phone masts are somehow responsible for spreading the virus, resulting in attempts to burn down these masts. Morons.

Spoke to the girls on FaceTime. The technology, that these people are trying to destroy, has proved to be a bit of life-saver throughout this crisis.


Friday 3rd April 2020 Day 11

Last night Matt Hancock, the Health Secretary, returned from his illness to make a spirited speech presenting the government's plans to make more tests for coronavirus available for front-line NHS workers. The number of deaths in the UK reached 3,600. The biggest increase in a 24-hour period to date.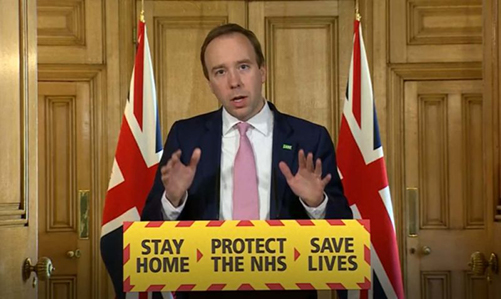 Helen started the weekly shop online, only to find the virtual shelves rather empty. Opting for a mission to M&S in Solihull, she called our parents to ask if they needed any essentials. Helen is like a one-woman version of International Rescue. Without her, the four of us would have been in dire straits.

'Alexa, shuffle songs by Dire Straits.'

The internet is inundated with jokes, memes and music videos to lift everyone's spirits.

Stop me if you've heard this one …
A guy walks into the local pharmacy and asks the assistant 'What gets rid of coronavirus from worktops?'. 'Ammonia Cleaner' she replies. 'Oh Sorry, I thought you worked here'.


Thursday 2nd April 2020 Day 10

The number of deaths caused by the coronavirus continues to rise with 2,921 deaths in the UK to date. Shocking. It seems there is a shortage of the chemicals needed to produce a test for the virus, meaning NHS workers who are needed cannot go into work because they have not been tested.

The supermarkets seem to be the only businesses continuing to thrive during the current crisis. Tesco's and Sainsbury's have agreed to pay their workers a bonus of 10% to recognise their extra efforts. Asda will pay workers an extra week's wage in June. M&S will pay 15%. Morrison's 0.75% and Waitrose are offering workers a hamper containing Lobster Thermidore, Truffled Foie Gras and a bottle of Prosecco in a Personalised Wooden Cask as a bonus. The sale of alcohol has increased by 22%. At least, I feel as if I am doing my bit to support the economy.


Wednesday 1st April 2020 Day 9

2,352 deaths. Nothing funny about this April Fool's day. Deeply shocking, disturbing and worrying to quote Michael Gove. In the daily press briefing last night, the government reassured us that the restrictions to normal life are beginning to have an impact on the number of infections. They spoke of 'Green shoots' of recovery. I hope they are right.


Rest of 2020 | June 2020 | May 2020 | April 2020 | March 2020